For those who do not know, the East West Shrine game is an annual opportunity for NFL prospects  to have a week of practices with appointed NFL coaches followed by a game to showcase their abilities. Most importantly, the entire week is conducted under the watchful eyes NFL scouts.
Unlike the Senior Bowl, where the majority of the top eligible prospects get their opportunity to shine, the East-West week spotlights some of the less heralded players from college. This means there is a mix of small school and 1-AA standouts who dominated at their level, one year senior starters who have either developed late or have been inconsistent in their college career and players who have performed to a high standard but do not have traditional physical skill sets that would make them natural NFL prospects.
Many of these players will go undrafted and few will make it an impact on NFL rosters. However, every year has a few diamonds. A good example is the 2014 game where Jimmy Garoppolo (Quarterback, New England) rose to prominence. Yet he has started far fewer games than Justin Britt (Offensive Line, Seattle) and EJ Gaines (Defensive Back, LA Rams) who also stood out that week.
Here is what you need to know from the East-West Shrine Practices.
Stars of the Week
Three players have really separated themselves from the pack.
Running back De'Veon Smith (Michigan) has shown himself to be a far more capable receiver coming out of the backfield than anyone could rightly expect for a 228 pounds, between the tackles, power back. His hands have particularly impressed as his measurements have come back rather small (8 1/4 inches) yet his deftness of touch and natural protectiveness of the ball appears to negate this as an issue.
Smith also proved himself to be the most consistent back of the week. Outside one notable fumble, he showed an innate ability to break tackles while having the presence of mind to get skinny when necessary.
If Smith can maintain this level of consistency, he suddenly becomes a very attractive back for those teams looking to run a committee rather than a feature back. He certainly has the college tape to suggest that he has the toughness to gain hard yards between the tackles and this added to his newly discovered pass catching dimension makes him a potential three down back.
The least surprising star of the week is Drake Tight End Eric Saubert.
The 6"4' Senior has been dominant in the Pioneer league (II-A) and has all the physical traits expected of a player who can make the jump to the NFL level. Therefore the eyes of the scouting world were very much upon him this week.
If anything, Saubert has exceeded expectations. His release from the line of scrimmage and ability to high point balls has excited everyone watching. One 30-yard catch made over a defensive back was particularly revealing as it showed a willingness to take contact and the body control to receive imperfect throws. However, what is likely to be most intriguing for scouts is Saubert's apparent pace against defensive backs. He certainly had more than one beaten for raw pace in one-on-one drills which raised more than a few eyebrows.
The clear defensive stand out was Defensive End Trey Hendrickson of Florida Atlantic.
A prototypical 4-3 edge rusher, Hendrickson seemed to beat his man in every one-on-one drill and full team scrimmage. More impressively, Hendrickson showcased a variety of techniques to beat his man which has the potential to make him a versatile weapon in the NFL. His pure speed rush was enough to beat most of the tackles he faced although it must be said that the general quality of that particular position was underwhelming. However this primary move was never rendered ineffective as he showed a good hand slap to make an inside move and would even go to the bull rush on occasion in a classic speed to power conversion play.
Hendrickson's understanding of pass rushing which forces the tackle to second guess his next move really was the defining difference between himself and the other pass rushers on display. It certainly suggests that he has the ability to become a week one situational pass rusher if not a plug and play type recruit. A big bonus for a team looking to strengthen in multiple positions.
With good combine numbers, all three men have put themselves in strong contention to be a high day 3 pick (4th or 5th round) and could go higher if someone falls in love with their tape.
Best of the rest – Offence
Other players flashed during the week. All bolstering their claims to be NFL prospects.
Western Michigan's quarterback Zach Terrell reinforced the generally held belief about his ability. He was accurate with the ball and showed good reading of the defence during 11 on 11 drills with no fear of making second and third reads. However his arm strength still looked a little short of ideal and his size is suboptimal. It wouldn't be surprising to see him be a late flyer as he would be a decent back up and could continue to develop.
Another quarterback, Alex Torgenson of the Penn Quakers, showed he can make every throw in the book and displayed more touch than expected. His movement in the pocket was also interesting to see if a team is looking for a more traditional drop back quarterback. Teams will certainly be asking for his tape to be reviewed in the upcoming weeks and he may be someone who starts to become more relevant in the second tier quarterback discussion.
Running back I'Tavius Mathers (Middle Tennessee State) confirmed his status as a reliable change of pace back. His catching out of the backfield and ability to make a player miss in space makes him a dangerous weapon on third down. There will also be a clamour to see what he is like as a returner as his skill set would certainly suggest this would be a role that he could exceed in.
Dare Ogunbowale (Wisconsin) was similarly interesting as a third-down back but lacked some of the shiftiness of Mathers. Certainly made himself known as a draft worthy talent though.
Purdue Wide Receiver Deangelo Yancey was the pick of the wide receiving group. His polished route running was certainly noticeable compared to his contemporaries as was his ability to use change of speed to create catching room. The question will be whether his tape matches his performance here.
Three others showed some promise but are unlikely to be anything but very low picks. Both Billy Brown (Shepherd) and Quincy Adeboyejo (Ole Miss) showed an ability to catch the ball in traffic and possess the size to be effective red zone weapons. Both players inability to create separation will limit their attractiveness though. Gabe Marks (Washington State), a much smaller wideout, showed nice shiftiness from the slot and a little explosiveness with the ball in his hands but was too inconsistent with his catching.
Toledo Tight End Michael Roberts is a big guy with surprisingly good hands. He'll be asked to do a lot of blocking during his pro day as he could be an interesting second tight end for some teams. Same might be said for USC's Taylor McNamara who flashed in the final practice.
The pick of the offensive line was guard Zack Johnson of North Dakota State. Another player who was picked before the week to be a stand out performer, he showcased a willingness to punish in the run game and had a good understanding of where interior pressure was likely to come from. He also anchored well against the bull rush. What Johnson also showed was that he is not a tackle prospect as he struggled with speed rushes on the edge. However, he is a solid guard who could surprise a few and come off the board on day 2.
There was little promise from the rest of the group. Adam Pankey (West Virginia) did himself little harm as the guard showed good strength inside without wowing. Wyoming's Chase Rouiller has good physical traits and many of the attributes, notably good hands, that scouts look for in a tackle but is still rather learning how to put everything together. The same could be said for William Holden (Vanderbilt) but his future may well be at guard rather than tackle.
One player who really failed to capitalise on this opportunity was Avery Gennesy of Texas A&M. Many believed this would be his week to propel himself into second round talk due to the tackles physical skill set. Yet his missed assignments were impossible to ignore. More worryingly, pure speed seemed to be his downfall which seems to undermine the athleticism that most expected him to show. There will need to be a lot of rehabilitation to Gennesy's image for him to go any higher than the final couple of rounds.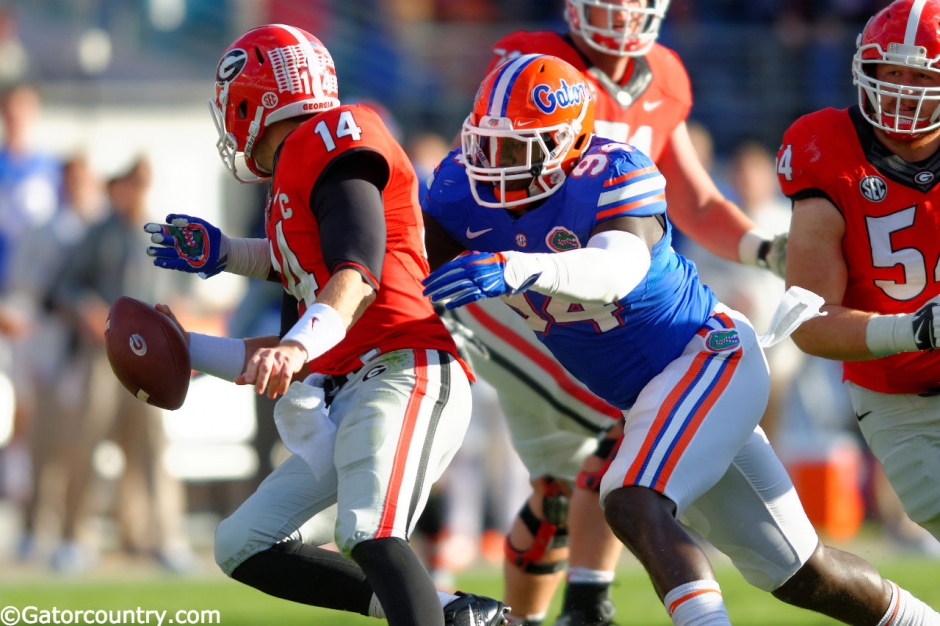 Best of the rest – Defence
The Defensive Line dominated proceedings for a large part of the week.
Brian Cox Jr. (Florida) may well have been the best athlete on show. He flashes enormous potential with fast feet and hands that can leave an offensive lineman clawing at air. He also has a knack of finding the ball carrier in the backfield which further capitalises on his explosiveness. However his inconsistency of play, and his tendency to go missing for large stretches of the 11 on 11 drill, is a big concern. He is likely to be the most difficult player to predict as a prospect as his upside his significant as is his bust potential.
Arkansas teammates Jeremiah Ledbetter and Deatrich Wise showed that they have NFL calibre attributes. Wise was the more consistent player, using his length to get good separation from his blocker on multiple occasions, but Ledbetter may have the more explosiveness as a pure speed rusher. Both have a chance of making teams next year although Wise may end of at defensive tackle.
Darius English (South Carolina) was another who consistently beat his man. His comfort without a hand on the floor opens up the potential for him to move to an outside 3-4 linebacker role and he certainly has the pure speed to play OLB in the NFL. Someone else who might have to consider that transition is Avery Moss of Youngstown State. He was all over the field but rather chaotic in his success. Control was clearly an issue, over running plays on several occasions, however his first step speed will intrigue.
The most consistent inside player was Josh Tupou (Colorado). Not a player who will generate a huge amount of pass rush, he does excellently fill space in the middle of the field and commands double teams to keep him from collapsing the pocket or interfering with run plays. Its an under appreciated role in the NFL which will effect his draft status but he could be an efficient player at the next level.
Eugene Price was one of the week's bigger disappointments. The undersize Pittsburgh prospect had a lot of sacks in the year but an early injury prevented him from showing that he could excel outside a defence specifically catered to his skill set.
Javancy Jones out of tiny Jackson State displayed above average pass recognition for a linebacker alongside enough athleticism to get from sideline to sideline. He will be a prospect that could take a significant jump as people find out his tape to see if this performance matches up with his on-field actions.
Far more recognisable was Mississippi State's Richie Brown. A nice downhill tackler with blitzing ambition, he confirmed his status as a mid-tier prospect who should contribute on special teams before finding a place in someone's starting lineup. He may be more suited to a middle linebacker role in a 3-4 though which may limit his chances of jumping up the draft board.
Multiple cornerbacks showed flashes during different periods of the practices. Further emphasising the depth of this year's corner class.
UCLA's Fabian Moreau was the most natural trail corner on the field. His loose hips gives him an impressive change of direction while his break on the ball made him a difficult opponent to beat over the middle. His relative lack of size may reduce him to slot corner status in some teams minds but he is capable of doing a job outside as well.
Nate Hairston (Temple) is a similar size but his desire to compete will turn heads. Not nearly as smooth as Moreau, he broke on the ball with a ferocity unmatched by other defensive backs.
On the bigger side is Oregon State's Treston Decoud. He has above average feet work and a good feel for the 5 yard contact line to disrupt route running patterns. A break on a curl emphasised these qualities in particular. Teams looking for a more physical presence are likely to look towards his direction late in the draft and he is certainly a name fans need to be aware off.
Safeties are always a difficult evaluation without All-22 tape.
One player who certainly had some flash plays was Michigan's Dymonte Thomas. He made a number of pass break ups and showed a desire to make contact with the ball carrier if they got to the second level. He appears to have the flexibility to play both safety positions but more tape work will be needed for a proper evaluation.
You can see the East-West Shrine game at 3pm ET/8 pm GMT on the NFL Network.